Rachel Frederickson was the season 15 winner of the Biggest Loser that aired last night. She lost a record breaking 60% of her total body weight, shrinking down from 260 lbs to 105lbs! However, many viewers immediately took to twitter to express their fears that she has become too thin, and losing that much weight is unhealthy. What do you guys think?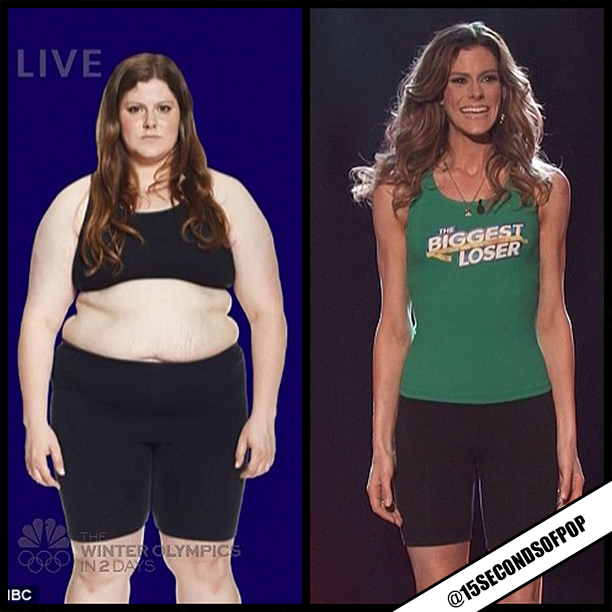 Read the FULL story on Rachel on the next page (click title)
MailOnline is reporting….
"She was a former athlete who at just age 23 had ballooned to 260 lbs and was too embarrassed to even let her own family see her.
But Rachel Frederickson was barely recognizable on Tuesday at a tiny 105 lbs – making her $250,000 richer as the latest winner of The Biggest Loser.
The one-time world class athlete lost almost 60 percent of her body weight and cut an incredibly slender figure in a silver dress as she took home the title from the latest season of the hit weight-loss competition show.
Rachel appeared the clear winner of the three finalists as soon as she strolled out on stage at the live finale in Hollywood.
Celebrity trainer Jillian Michaels when she first saw her mouthed: 'Oh my God!'
It took Rachel several seconds after the final weigh-in to realize she had won – and she could barely control her shock as confetti started raining down.
She earlier said the show helped transform her from an 'unhappy, sad girl into this girl that is so confident.'
'I've found her – I'm never going to let her go,' Rachel said.
She had also insisted that her new confidence was more important than the title.
'This journey already has been life changing,' she said. 'It would just sweeten it all up to stand on that scale and know that you are The Biggest Loser.'
'I was shocked,' Rachel told People backstage shortly after winning."
Credit: dailymail.com
Read more: http://www.dailymail.co.uk/tvshowbiz/article-2552017/Rachel-Frederickson-crowned-The-Biggest-Loser-shrinking-tiny-108-lbs.html#ixzz2sUaLcZTB
Follow us: @MailOnline on Twitter | DailyMail on Facebook