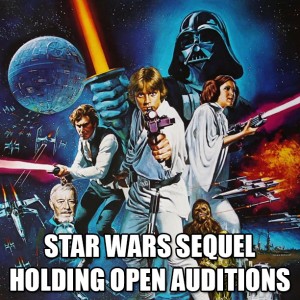 Wanna be in the next star wars movie? Well, heres your chance because Open auditions are being held for two lead roles in the next film. The casting sessions will start later this week in Nashville and Chicago, and online applications will also be accepted. Here's what they are looking for….
Seeking: Young woman to play 17-18 Years old. Must be beautiful, smart and athletic. Open to all ethnicities (including bi- and multi-racial).
RACHEL:
Was quite young when she lost her parents. With no other family, she was forced to maker her way alone in a tough, dangerous town. Now 17 she has become street smart and strong. She is able to take care of herself using humor and guts to get by.
Always a survivor, never a victim, she remains hopeful that she can move away from this harsh existence to a better life. She is always thinking of what she can do to move ahead.
Seeking: Young man to play 19-23 years old. Must be handsome, smart and athletic. Must be over 18.
THOMAS:
Has grown up without a father's influence. Without the model of being a man, he doesn't have the strongest sense of himself. Despite this, he is smart, capable and shows courage when it is needed. He can appreciate the absurdities in life and understands you can't take life too seriously.
APPLY DIRECTLY TO CASTING DIRECTORS HERE